Home
/
Coronado JG X 1-Piece Swimsuit Navy (READ SIZING)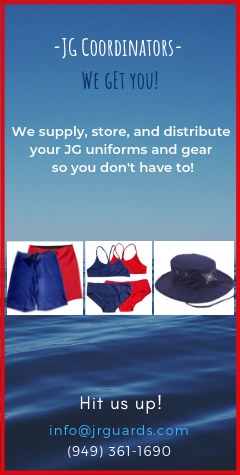 Call or chat with us today. We are here to make your life easier.
Coronado Girls' & Womens' Junior Guard JG One Piece Swimsuit - Navy (CHECK SIZE CHART)
Girls' & Womens' Junior Guard JG One Piece Swimsuit

Features:
Coronado logo on left hip of swimsuit.
This is a girl's, junior's and women's one-piece swimsuit perfect for junior guards, swimmers and lifeguards.
Conservative scooped neckline and stay-in-place fixed-back straps across the shoulders.
This 1-piece swimsuit provides a classic bottom coverage.
Durable stitching throughout.
Outside Fabric: 100% Polyester.
Inside Lining: 100% Polyester.
Rinse in cool water after use and hang dry out of sun.
These are GIRLS' sizes, not JUNIORS sizes. Sized for ages 7-16.
Size 07 - Waist: 22"-22.5", Chest: 24.50"-25.5"
Size 08 - Waist: 22.5"-23", Chest: 2.50"-27"
Size 10 - Waist: 23.5"-24", Chest: 28"-28.50"
Size 12 - Waist: 24.5"-25", Chest: 29"-30"
Size 14 - Waist: 25.5"-26", Chest: 31"-32"
Size 16 - Waist: 26"-28", Chest: 32"-34"
Returns
jrguards.com does not do direct exchanges unless you come to our location. If you want to return an item and get a different item/size/color, etc., please place a new order for the replacement item, and contact us to get an RA (return for the item(s) you are returning. Once we receive the returned item, your card will be credited.

IMPORTANT:

If you ordered swimfins from us and they don't fit, we do NOT cover return shipping fees! Please note that swimfin sizing is provided by the fin manufacturer and will vary from brand to brand. Foot pocket width varies as well. If you want advice on sizing, please email, live chat, or call, but understand that any recommendation we provide is exactly that- a RECOMMENDATION and is no way a guarantee of fit and you will still be required to cover return shipping costs.

There are no returns on anything that has been used, or in the case of boards, unwrapped from their packaging. Also no returns are permitted on certain custom items (custom bodyboards), DVDs, secondhand items or blemished items. If you bought an item of clothing and washed it, we cannot accept a return. Shrinkage is not a valid reason for returning clothing.

For more information about our return policy here.


Shipping
FREE Continental USA shipping on orders over $79.99 (restrictions apply- see below)